Our Story
Our Story
The Appeal of Old-Fashioned Country Cooking
Jacob's home-style country cooking is all about simplicity, hospitality, history and that comforting feeling of home. Our famous country-style flavours are no secret: they come from quality ingredients, great seasoning, perfect doneness and traditional cooking techniques that have withstood the test of time.



Our menu features soul-satisfying meals full of country kitchen goodness. Jacob's is ideal for casual dining, family gatherings, company functions and holiday celebrations. Our cooking takes you back to simpler times and tastes; to the rustic and idyllic charm of Changi Village.



Birth of an Inspiration
It all started one morning when my wife and I were on an idyllic drive along the coastal road of Changi Village. As the warm rays of the golden sun were shining gloriously in the sky and the lapping waves of the South China Sea were shimmering its reflecting light onto our eyes, an inspirational thought flashed though our minds.



We thought that with its ideal setting of rustic charm, sun, sea and sand, wouldn't it be a good idea to set up a little cosy café specialising in traditional western country cooking in the heart of Changi Village? It would be authentic western country food that is served in a typical household in the West.



What fired our imagination was that we were embarking on a momentous career change into the F&B line. We were trained as engineers in the field of communications and computers.



But we were driven with a deep fascination and passion for western country food because it is a unique class of its own. It is not just western fine dining or the fast food hamburgers that we know of.



It is the traditional western country food served in a typical western household with its simmering pots of stews, savoury shepherd pies, hearty freshly baked breads and soups, sizzling hot pork knuckles, cheesy pastas and sweet endings of tea biscuits and butter cakes that make the meals so homey and conducive to family-and-team bonding and well being. And these are usually prepared and cooked in the humble oven common in western households.

And we were no strangers to this type of western country food. At an early age, we were exposed to western food fare. We grew up in a household regularly feted with western country food. Dad ran a grocery store selling western foodstuffs and mom worked under a British head chef serving the British Army in colonial Singapore. The head chef imparted all his culinary skills and knowledge of western cooking to mom.
Every weekend mom would serve us a grand dinner like a family-sized steak and kidney pie, baked macaroni with tasty cheddar cheese, oxtail stew and apple pie baked freshly from the oven for the family.



Also a period of studying and working overseas, coupled with staying with a Canadian family out in the country village of Elmira truly imbued in us not only a passion for country cooking but availed us the opportunity to learn and gain an insightful knowledge and experience of home-cooked country meals from the Canadian family.



Setting up Jacob's Café
And so began our bold initiative to set up the café. We had plenty of help from many quarters besides mom and dad. A Dutchman introduced us to a programmable combi-steam convection oven that could bake and cook everything from breads and cakes to stews and sizzling meats. From a German consultant, we learnt all about German pork knuckles, sausages and beers and the art of wine pairing with various dishes. The Canadian family generously shared their country recipes. Even the design of the café, furniture, fixtures and furnishings to project a country theme were earnestly sought from like minded architects, designers and consultants.



It was an exhilarating and richly rewarding time and effort for all of us who had a stake in the café enterprise. Our spirits were high, filled with great enthusiasm and expectations when the day arrived to open the café on 20 Sep 2000 after a year of painstaking work.



We named the café Jacob's Café. It was so named, having been inspired by the biblical name Jacob who returned to lead a shepherd's life in the rustic land of his native roots. We too were returning to the rustic charm of Changi Village that is archetypal of a past, rural Singapore as in the days of our youth.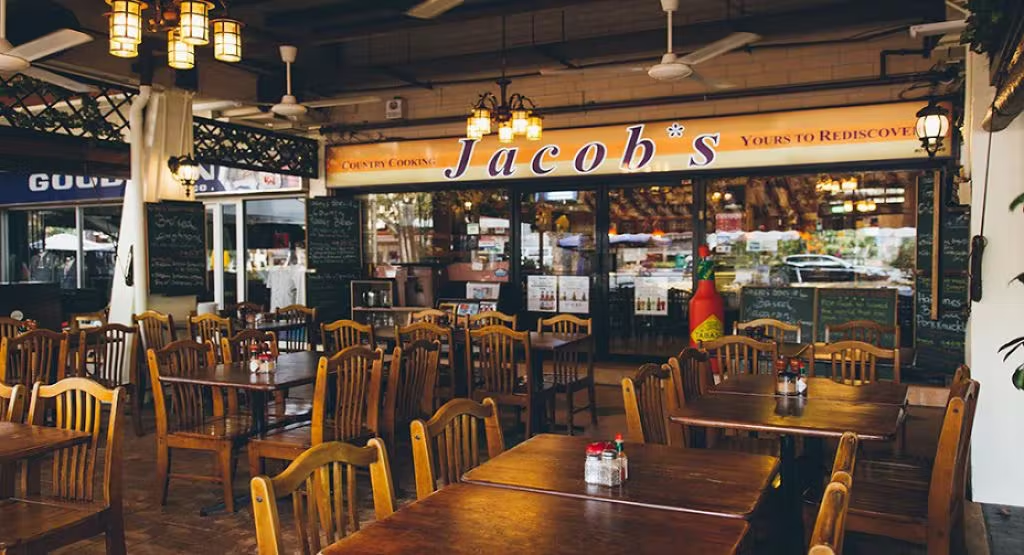 A Theme for Western Country Cooking
To begin with, the traditional Western Country Cooking in a typical western household is all about Hearty Country Meals. Hearty because it is our fervent belief that good country meals made from fresh quality ingredients should be the heart of our kitchen and that the kitchen should be the heart of our cosy café.

So Hearty Country Meals became our theme to project our café identity and image.
Yes, the reality is that when it comes to cooking, country is as near as to the kitchen. That is because country cooking is all about deliciousness, simplicity, hospitality, quality and ambience of homeliness, the fun and warmth of getting together for the young and old, families, professionals and business executives.



In order for our customers to enjoy an extraordinary, dining experience, the café was designed to provide a cosy, people-centred, rustic atmosphere that is welcomingly warm, comforting and comfortable. It should be a place for spiritual renewal, physical rest and recreation and peace of mind for the soul, far away from the hustle and bustle of city life.



And as the café is nestled in the quaint picturesque village of Changi with its natural undulating landscape and unspoiled beauty of the little woodlands here and there, the country setting bears a close resemblance and a nostalgic remembrance of the quintessential English countryside. To cap it all, Changi Village was formerly an RAF airbase and its legacy still lives on. The old colonial buildings and bungalows are still very much preserved, a heritage we are proud to be associated with. It is just the perfect place for a country café.



In addition our café is aimed at featuring regular new updates of menu selection of western country foods with some exclusively unique Asian dishes and selected wines to go tastefully with them. The experience is even made more pleasurable and palatable with our commitment to good service, good hygiene practice and cleanliness.







Jacob's Calling: Hearty Country Meals
Through serving Hearty Country Meals at Jacob's Café, it is our earnest hope and desire and indeed the hope and desire of all stations with a common craving for western country cooking to share and learn from our stories, interests and experiences in our daily lives no matter how trivial or important they may be; to know and appreciate the cultures of different people from all corners of the earth; and to express freely and savour the tastes and pleasures of western country cooking at Jacob's Café.



At Jacob's Café, it will always be a little country café, a retreat to rediscover eagerly the pleasures and tastes of country cooking. Therein lies the alluring charm of Jacob's Café with its Hearty Country Meals.